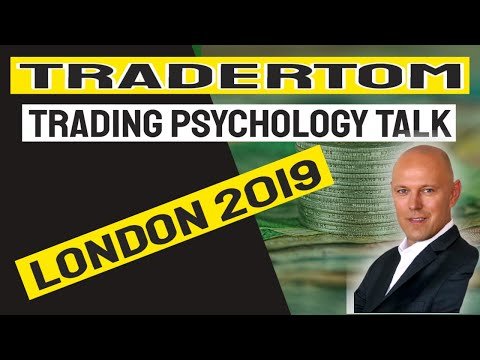 Day Trader Tom Hougaard – TraderTom talks about Traders Mindset and Trading Psychology.
Trading is all about Traders Mindset and Trading Psychology
If 90% of people who trade use the same tools, and 90% of people who trade fails to produce consistent profits, then why is it such a big jump in our belief system to conclude that SYSTEM ≠ SUCCESS? The system and method do not guarantee or equate to profits.
In this talk, which are the notes from the speech I gave at the London Forex show in February 2019, I explore the evidence of profitable trading, and I lay out a path for people who want to contemplate what successful trading is truly all about.
The recording is a bit rough here and there. There is an odd language error. That aside, I firmly believe that trading is all about the mental mindset I bring to the trading day. When I trade, as most evidenced in my Telegram group and via YouTube streaming my trading account (but not always, because I mess up at times too), I use the axioms discussed in this talk as my trading foundation. I would rather have missed the chart preparation for the day than I would want to have missed my mental preparation for the trading day.
By Day Trader by Tom Hougaard
✅ Visit Tom Hougaards website: https://tradertom.com
✅ Follow my Telegram group for FREE trading signals daily – all day: https://tradertom.com/trading-signals/
👍 Please like, subscribe & comment if you enjoyed it – it helps a lot! 👍
👉 If you hit the "Bell" icon (🔔) you will receive a notification on youtube every time that we upload a video on our channel.
👉 For more related videos on Trading Psychology and Day Traders Mindset:
https://www.youtube.com/playlist?list=PLTIUSbN_V17W-c4gClZkfvnVT1bMDy5k6
/>
👉 Videos about Scalping as a Day Trader:
https://www.youtube.com/playlist?list=PLTIUSbN_V17XvAeJ39G8UWOOqTTcIpytn
/>
#TradersMindset #TraderTom #TradingPsychology